On the Esthetic Value of Works of Art
Blagomir Papazov

Shumen University "Episkop Konstantin Preslavski"
Abstract
The study of the processes involved in the creation of a work of art has been the focus of numerous complex theories which continue to find new interpretations in an attempt to reflect the emerging innovative forms of visual arts. Theory and history of art are an ever-changing field of ideas and interpretations of the processes of art creation and discussions about the definition of what constitutes a "work of art". Works of art have a special social significance as they are an integral part of the culture of a society. They reflect the esthetic and artistic values of the time in which they were created, and the style and changes it undergoes in time. The interpretation of a work of art has always been a kind of improvisation, which however requires esthetic empirical evidence and professional expertise in the respective type of art.
References
Angelov, V. (2007). The aesthetics of the avant-garde, Sofia: Abagar [orig. in Bulgarian: Estetika na avangarda].

Danto, Arthur C. (2006). The Transfiguration of the Commonplace, Cambridge, MA: Harvard University Press.

Dickie, G. (1974). Art and the Aesthetic: an Institutional Analysis, Ithaca: Cornell University Press.

Florensky, P. (2006). Beyond Vision - Essays on the Perception of Art, Chicago: Reaktion Books.

Lane, R. J. (2009). Routledge critical thinkers - Jean Baudrillard, London: Routledge.

Sadleir, M. (2008). Wassily Kandinsky: Concerning the Spiritual in Art, Waiheke Island: Floating Press.

https://books.google.rs/books?id=03ugtxqGZYMC&printsec=frontcover&hl=sr&source=gbs_ge_summary_r&cad=0#v=onepage&q&f=false

Stefanov, S. (2006). Cultural dimensions of the visual, Sofia.

Sulzer, J.G., Koch, H.C. (1995). Aesthetics and the Art of Musical Composition in the German Enlightenment (Selected Writings), Cambridge: Cambridge University Press.

Von Goethe, J.W. (2005). Maxims and Reflections, Penguin UK.

Von Schelling, F.W.J. (1989). The Philosophy of art (Vol. 58), Minneapolis: University of Minnesota Press.

Walton, K. (2007). Aesthetics—What? Why? and Wherefore?, University of Michigan, Department of Philosophy: The Journal of Aesthetics and Art Criticism, v65 n2: 147-161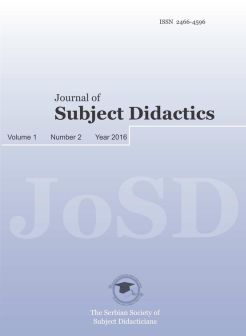 How to Cite
Papazov, B. (2017). On the Esthetic Value of Works of Art. Journal of Subject Didactics, 1(2), 97-100. https://doi.org/10.5281/zenodo.438172
Copyright (c) 2017 Journal of Subject Didactics
This work is licensed under a Creative Commons Attribution-NonCommercial-ShareAlike 4.0 International License.
Authors who publish with this journal agree to the following terms:
Authors retain copyright and grant the journal right of first publication with the work simultaneously licensed under a Creative Commons Attribution-NonCommercial-ShareAlike 4.0 International License that allows others to share the work with an acknowledgment of the work's authorship and initial publication in this journal.
Authors are able to enter into separate, additional contractual arrangements for the non-exclusive distribution of the journal's published version of the work (e.g., post it to an institutional repository or publish it in a book), with an acknowledgement of its initial publication in this journal.
Authors are permitted and encouraged to post their work online (e.g., in institutional repositories or on their website) prior to and during the submission process, as it can lead to productive exchanges, as well as earlier and greater citation of published work (See The Effect of Open Access).