SPECIES OF THE FAMILY LEPTOPODIDAE (HETEROPTERA) IN SERBIA
Ljiljana Protić

Natural History Museum Belgrade, Njegoševa 51, Serbia
Abstract
Erianotus lanosus (Dufour, 1834) was collected for the first time in Serbia. Leptopus marmoratus (Goeze, 1778) is the other species from the Leptopodidae family that has been found in Serbia to date. In Europe, four species of the family Leptopodidae are distributed: Erianotus lanosus (Dufour), Leptopus hispanus Rambur and Leptopus marmoratus (Goeze) and Patapius spinosus (Rossi).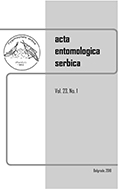 Copyright (c) 2018 ACTA ENTOMOLOGICA SERBICA
This work is licensed under a Creative Commons Attribution-NonCommercial-ShareAlike 4.0 International License.
Copyright:
 © 2014 The ENTOMOLOGICAL SOCIETY OF SERBIA Staff. This is an open-access article distributed under the terms of the 
Creative Commons Attribution License
, which permits unrestricted use, distribution, and reproduction in any medium, provided the original author and source are credited.