FIRST RECORD OF BRACHYCOLEUS THORACICUS PUTON, 1892 (HEMIPTERA, MIRIDAE) FROM IRAN
Saadi Mohammadi

University of Guilan

Reza Hosseini

University of Guilan

Jalil Hajizadeh

University of Guilan
Abstract
A faunal study on plant bugs (Miridae) was carried out in the western part of Kurdistan province during 2016-2017. Two species of the genus Brachycoleus Fieber, 1858 were collected: B. thoracicus Puton, 1892 and B. lineellus Jakovlev, 1884. The former species is reported for the first time from Iran and the latter for the first time from Kurdistan province. In this study, a description of B. thoracicus, and habitus photographs of male and female B. thoracicus  Puton, 1892 and B. lineellus Jakovlev are provided. The identified specimens were deposited in the insect collection of the Natural History Museum at University of Guilan, Rasht, Iran.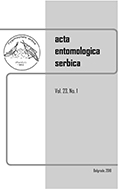 Copyright (c) 2018 ACTA ENTOMOLOGICA SERBICA
This work is licensed under a Creative Commons Attribution-NonCommercial-ShareAlike 4.0 International License.
Copyright:
 © 2014 The ENTOMOLOGICAL SOCIETY OF SERBIA Staff. This is an open-access article distributed under the terms of the 
Creative Commons Attribution License
, which permits unrestricted use, distribution, and reproduction in any medium, provided the original author and source are credited.