Journal of Subject Didactics aims to link teaching theory and teaching practice, that proclaims effective didactic models for implementing subject teaching. In the JoSD, their share will find articles related to teaching natural, technical, social science, art and physical education.
Journal of Subject Didactics (JoSD) is a semi-annual journal of the Serbian Society of Subject Didacticians, started publishing in 2016.

JoSD is an international peer-reviewed open access academic journal published by the Serbian Society of Subject Didacticians (SSoSD). The journal published only high-quality original papers which present the research in subject teaching and related sciences (research articles). Also, in the JoSD are welcome to publish especially presenting models of teaching practice (practical), case studies (case study), articles that present the author's opinion and insights regarding current research or other topics of interest (analysis, perspective, opinion, commentary) and analysis of monographs and textbooks (book review).
Journal of Subject Didactics is indexed in:
DOAJ
ICI Journal Master List 
Announcements
Registration / Confirmation email

Just after finished registration in Journal of Subject Didactics online journal system:

1. Check your Junk/Spam folder

 

2. Do a search for "[JoSD]" or "jelena.d.stanisavljevic@gmail.com" 

Sometimes, emails will be filtered into an unintended folder.

 

3. Add the "[JoSD]", "

jelena.d.stanisavljevic@gmail.com"

or domain bio.bg.ac.rs to your email's list of "Safe Senders"

In an effort to prevent/reduce unwanted emails, some email services will recommend that you add trusted senders to a list, to ensure that you only get the mail you want.

Posted: 2015-07-13

KNOWN PROBLEMS WITH USER REGISTRATION AND LOGIN

It is known that some proxy servers can cause problems with user registration and login. Before registering as a new user and logging into the system, we recommend changing the proxy settings in your browser to "No proxy" or "Automatic". In case of problems, please contact the editorial office by e-mail:

 

Ljubisa at bio dot bg dot ac dot rs

 

(and excuse the name mangling).
Posted: 2015-07-13

Information For Authors

Interested in submitting to this journal? We recommend that you review the About the Journal page for the journal's section policies, as well as the Author Guidelines. Authors need to register with the journal prior to submitting or if already registered, can simply log in and begin the five-step process.
Posted: 2015-02-18
Vol 1, No 2 (2016): Journal of Subject Didactics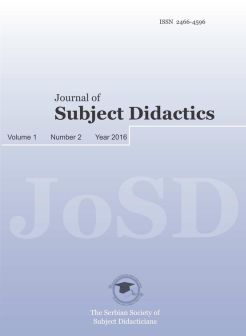 Vol. 1, No. 2 (2016): Journal of Subject Didactics