DRINO IMBERBIS (WIEDEMANN) (DIPTERA: TACHINIDAE), A PARASITOID OF MALACOSOMA DISSTRIA HUBNER (LEPIDOPTERA: LASIOCAMPIDAE) CATERPILLARS IN IRAN
Fariba Sohrabi

Department of Plant Protection, Faculty of Agriculture, Persian Gulf University, Bushehr, Iran, P.O. Box 75169-13798

Mohammad Amin Kohanmoo

Department of Plant Protection, Faculty of Agriculture, Persian Gulf University, Bushehr, Iran, P.O. Box 75169-13798
Abstract
Malacosoma disstria Hubner (Lepidoptera: Lasiocampidae) is a widespread generalist defoliator of a wide variety of plants in Iran. This study was conducted to identify the indigenous parasitoids of the forest tent caterpillar in the Borazjan region of the Bushehr province, Iran. Samplings were conducted in different sites within a single cabbage field heavily infested with M. disstria. The forest tent caterpillars were reared in the laboratory until the emergence of parasitoids. A parasitoid species from the family Tachinidae was found, reared, and identified as Drino imberbis (Wiedemann). Malacosoma disstria is a new host record for D. imberbis in Iran.
References
Calvo, D., & Molina, J. M. (2002). First Iberian record of Drino maroccana Mesnil, 1951 (Diptera, Tachinidae, Exoristinae), a parasitoid of Streblote panda Hübner, [1820] (Lasiocampidae) caterpillars. Graellsia, 58, 85-86.

Costa, J. T. (1997). Caterpillars as social insects. American Scientist, 85(2), 150-159.

Coyle, D. R., Nebeker, T. E., Hart, E. R., & Mattson, W. J. (2005). Biology and management of insect pests in North American intensively managed hardwood forest systems. Annual Review of Entomolology, 50, 1-29.

Efil, L., & Kara, K. (2004). Tachinid parasitoids (Diptera: Tachinidae) of Spodoptera exigua in cotton fields in Diyarbakır, Turkey. Phytoparasitica, 32(4), 363-366.

Farar, N., Ahmadi, A. A., & Golestaneh, S. (2002). The ber moth, Thiacidas postica Walker (Lep. Noctuidae), dispersal and natural enemies in Bushehr province. Pajouhesh-va-Sazandegi, 14(4), 64-69.

Gheibi, M., Ostovan, H., & Kamali, K. (2010). A contribution to the tachinid flies of the subfamilies Exoristinae and Tachininae (Diptera: Tachinidae) from Fars province, Iran. Turkish Journal of Zoology, 34(1), 35-43.

Gözüaçik, C., Mart, C., & Kara, K. (2009). Parasitoids of several lepidopterous pests in maize plantations in the Southeast Anatolian Region of Turkey. Turkish Journal of Zoology, 33(4), 475-477.

Kara, K., & Tschorsnig, H. P. (2003). Host catalogue for the Turkish Tachinidae (Diptera). Journal of Applied Entomology, 127(8), 465-476.

Saadat, D., Bandani, A. R., & Dastranj, M. (2014). Comparison of the developmental time of Bracon hebetor (Hymenoptera: Braconidae) reared on five different lepidopteran host species and its relationship with digestive enzymes. European Journal of Entomology, 111(4), 495-500

Ziegler, J. (2011). The Tachinid times, C.E.F., Ottawa, Ontario, Canada, K1A 0C6, 24, 7-11.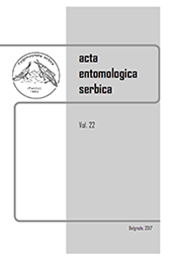 Copyright (c) 2017 ACTA ENTOMOLOGICA SERBICA
This work is licensed under a Creative Commons Attribution-NonCommercial-ShareAlike 4.0 International License.
Copyright:
 © 2014 The ENTOMOLOGICAL SOCIETY OF SERBIA Staff. This is an open-access article distributed under the terms of the 
Creative Commons Attribution License
, which permits unrestricted use, distribution, and reproduction in any medium, provided the original author and source are credited.