CONTRIBUTION TO THE FAUNA OF CYNIPID GALL WASPS (HYMENOPTERA: CYNIPIDAE) OF MT. OBLA GLAVA (SERBIA)
Cedomir Milan Markovic

Faculty of Forestry, Belgrade University
Abstract
During 2005-2017 on Mt. Obla Glava (southeastern Serbia), 30 species of gall wasps were recorded from two tribes [Cynipini (26) and Diplolepidini (4)] and 8 genera [Andricus (17 species), Diplolepis (4), Cynips (3), Neuroterus (2), Aphelonyx (1), Biorhiza (1), Dryocosmus (1), and Pseudoneuroterus (1)]. The highest number of species was found on Quercus pubescens (17), somewhat less on Q. frainetto (13) and Q. petraea (11), and the least on Q. cerris (6) and Rosa sp. (4). Andricus stefanii is the first record for Serbia. Localities, dates of gall collecting and host plants for all recorded species are given.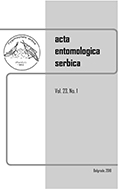 Copyright (c) 2018 ACTA ENTOMOLOGICA SERBICA
This work is licensed under a Creative Commons Attribution-NonCommercial-ShareAlike 4.0 International License.
Copyright:
 © 2014 The ENTOMOLOGICAL SOCIETY OF SERBIA Staff. This is an open-access article distributed under the terms of the 
Creative Commons Attribution License
, which permits unrestricted use, distribution, and reproduction in any medium, provided the original author and source are credited.