ACANTHOPSYCHE ECKSTEINI (LEDERER, 1855) (LEPIDOPTERA: PSYCHIDAE) – SECOND RECORD FOR SERBIA
Ana Nahirnić

Faculty of Biology, University of Belgrade, Studentski Trg 16, 11000 Beograd, Serbia
References
ANĐUS, Lj., 1984. Bulletin of Natural History Museum, B, 39: 45-49;

GRADOJEVIĆ, Z., 1963. PhD Thesis (manuscr.), University of Belgrade, Faculty of Agriculture. [in Serbian];

KOČA, Gj., 1900. Glasnik hrvatskoga naravoslovnoga društva, XII(1-3): 100-134;

KOZHANTCHIKOV, I.V., 1956. Fauna der UdSSR, Psychidae. Academy of Science USSR. Moscow, Leningrad, 517 pp. [in Russian];

KURTZ, M. & HORVAT, L., 2010. Mitt. Haus der Natur, 18: 51-55;

LEDERER, J., 1855. Verhandlungen des zoologisch-botanischen Vereins in Wien, 5: 755-758;

PINKER, R., 1945. Zeitschr. Wiener Ent. Ges., 30: 5-14, 123;

ROTHSCHILD, N., 1909-1917. Rovartani Lapok, XVI: 130-148, XVIII: 36-43, XIX: 21-29, 167-180, XX: 66-91, 170-175, XXI: 27-47, 72-77;
RUTJAN, E.V., 2003. Vestnik zoologii, Suplement № 16: 121-128;

SAUTER, W. & HÄTTENSCHWILER, P., 1991. Nota lepidopterologica, 14: 69-89;

SAUTER, W. & HÄTTENSCHWILER, P., 1996. In: Karshlolt, O. & Razowski, J. (eds.): Psychidae. Apollo Books, Stenstrup, pp.: 39-46;

SINEV, S.Y. & LOVTSOVA, Y.A., 2008. In: Sinev, S.Y. (ed.): Catalogue of the Lepidoptera of Russia. KMK Scientific Press Ltd., St. Petersburg-Moscow, 424 pp.;

SOBCZYK, T., 2011. In: Nuss, M. (ed.): Psychidae (Lepidoptera). Apollo Books, Stenstrup, 467 pp.;

ŠTANTA, R., 2008. Acta entomologica Slovenica, 17(1): 63-66;

ZEČEVIĆ, M., 1996. The overview of butterfly fauna of Serbia (Macrolepidoptera). Institute for research in agriculture, Serbia and IP Nauka, Belgrade, 159 pp. [in Serbian];

ZEČEVIĆ, M., 2002. Butterfly fauna of Timоčka Krajina (E Serbia). DŠIP 'Bakar' Bor i Narodni muzej, Zaječar, 307 pp. [in Serbian];

ZEČEVIĆ, M. & VAJGAND, D., 2001. Sveske Matice srpske, No. 37, Serija prirodnih nauka, 11: 34-78.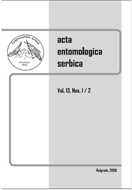 Section
Short communications
Copyright (c) 2016 ACTA ENTOMOLOGICA SERBICA
This work is licensed under a Creative Commons Attribution-NonCommercial-ShareAlike 4.0 International License.
Copyright:
 © 2014 The ENTOMOLOGICAL SOCIETY OF SERBIA Staff. This is an open-access article distributed under the terms of the 
Creative Commons Attribution License
, which permits unrestricted use, distribution, and reproduction in any medium, provided the original author and source are credited.